Dr. Vivek Bindra (Auto Biography – Wiki): Know more about Dr. Vivek Bindra Motivational Speaker, Leadership & Corporate Trainer one of the top marketer, he the best knowledge regarding business, entrepreneurship, leadership and many more. He is specialized for empowering the people to realize their true potential.
Dr. Vivek Bindra as a keynote speaker, where millions of people benefitted from his energetic workshops all around the globe. He is a successful advisor for more than 1500 corporate and pathway finder for many entrepreneurs and the top notch business entities.
Dr. Vivek Bindra is author of many high powerful motivational books that helped million of people around the world. He sets the record for being the World's top Leadership and Entrepreneurial Channel on YouTube with a huge fan following , his videos are watch all around the world with the huge views of million on per video.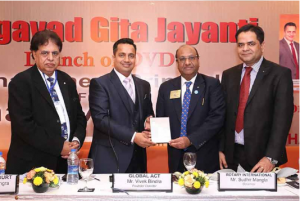 Dr. Vivek Bindra has honored with the following titles:
Founder & CEO – Global ACT: Dr. Vivek Bindra who is revolutionary entrepreneur and the international motivational speaker. Alongside, he is the founder and CEO of "Global ACT", an academy which is responsible for providing the consultation training.
Trusted Advisor: Dr.Vivek Bindra is a top class trusted adviser for more than over 500 corporate houses and an entrepreneurs who is specializing in providing for the growth and success.
Motivational & Keynote Speaker: Dr.Vivek Bindra is the most encouraging human being to help people to realize their true potential. His energy level motivates and brings him more listeners to his video funnels.
Awarded As Best Corporate Trainer By Maruti Suzuki: Dr.Vivek Bindra who has been awarded as the Best Corporate Trainer by Maruti Suzuki for two years in a row.
Leads Unique Flagship Program: Dr.Vivek Bindra who leads the revolutionary six months leadership Funnel Program Course, which helps the people or make them ready for the challenges, nitty-gritties and alterations which is required to run a very successful business organization in today's world.
Author of 10 High Power Motivational Books: Dr. Vivek Bindra has successfully written more than 10 power motivational books, those of books which have sold by millions. His books are available on all the popular online books store and as well as across the country India.
Videos Being Viewed in 190 Countries:  Dr. Vivek Bindra who runs a successful youtube motivational channel which have viewers from around 190 countries worldwide.
Best Motivational Speaker in India: Dr. Vivek Bindra has been awarded as the best motivational and keynote speaker in India by the 'International Association of Lions Club. This is just one of his recognition many others been conferred upon him.
Acclaimed Leadership Trainer & CEO Coach: Dr. Vivek Bindra is an international acclaimed leadership trainer and as well as a CEO Coach. He has successfully provided thousands of various trainings  in industrial leaders.
Honored with Rotary Excellence Award: Dr. Vivek Bindra  is the man behind thousands of successful people around the world, his lectures from youtube has helped millions of people not only in India but all around the world. He has been successfully awarded by with Rotary Excellence Award for his remarkable works.
Million of Followers: Dr. Vivel Bindra has millions of fan following not from only India but from over 190 countries from the earth. He helped many individuals to live their lives in more meaningful ways through his motivational videos and books.
World Record Largest Gathering or HR Professionals: Dr. Vivek Bindra has successfully set a target record of training the largest gathering of HR professionals under one roof across all the business domains. The event which was registered at "Golden Book of World Records."
India Greatest Brand and Leader 2015-16: Dr. Vivek Bindra has been facilitated with the India's biggest Brand and Leaders of 2015 to 2016 Award in a ceremonial function, which was hosted by the Price Waterhouse Cooper.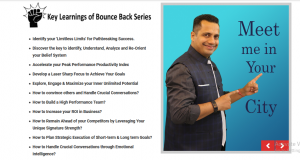 Click Here To Register For Bounce Back Series By Dr. Vivek Bindra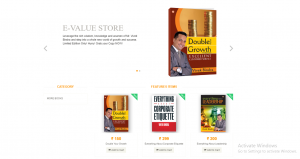 Dr. Vivek Bindra Books: If you want to purchase the motivational and leadership books by Dr.Vivek Bindra. You May purchase from his official website, where you can easily do the payment and get the book to read more and learn more. CLICK HERE TO PURCHASE
Connect with Dr. Vivek Bindra on Social Media So, You can learn from his daily posts and articles on the social media, he always posts something that inspires and motivates us. So, do not forget to like, subscribe him on Youtube, Facebook, Twitter, LinkedIn etc.

Keynote Speaker, Motivational Speaking, Training, Team management, Time management, Corporate Training, Coaching & Mentoring, Team Building, Soft Skill, Employee Training, Executive Coaching, Emotional Intelligence, Leadership Development, Management Development, Business Development, Professional Mentoring, Behavioural Change, Employment Engagement, Business Strategy, Strategic Planning, Marketing Strategy, Market Research, Management, Performance Management, Coaching, Customer Service, Advertising, Social Media, Leadership, Entrepreneurship, Entrepreneurship, Programme, recruiting, Published Auther, Fundraising, Preaching, Consulting, Management Consulting, Talent Management, Employee Relations, Personal Development, Change Management, New Business Management, Business Planning, Sourcing, Negotiation, Project Planning
Source:- Linkedin Profile
#DrVivekBindraWikipedia #DrVivekBindraEducation #DrVivekBindraBiography #DrVivekBindraMotivationalSpeaker #DrVivekBindraBooks #DrVivekBindraBounceBackSeries #DrVivekBindraAge #DrVivekBindraNetWorth
#DrVivekBindraIncome